Buffo's Wake is a twelve-legged beast, hatched in the murky backwater of Brighton, UK. Armed with accordions, violins and a bucket full of gusto they waltz, tango, mosh and kolo their way through a vast array of influences from Eastern European, Balkan and Russian folk, to punk rock and cabaret, telling tales of debauchery, deformity, zombies, incest and anatomy and making audiences dance late into the night in the process.
Musical schizophrenics, drawing from diverse backgrounds ranging from Drum n' Bass DJ's to classically trained string players, punks to funk players and poets to showmen, you're never quite sure what to expect next from Buffo's Wake.
In their time together, they have toured all over the world, finding an inspired, confused, sweaty, and often very drunk reception everywhere they go.
Gypsy, Balkan and Klezmer Carnival Punks – with influences from Abba to Zappa, Buffo's Wake are guaranteed to leave you dancing like a man possessed!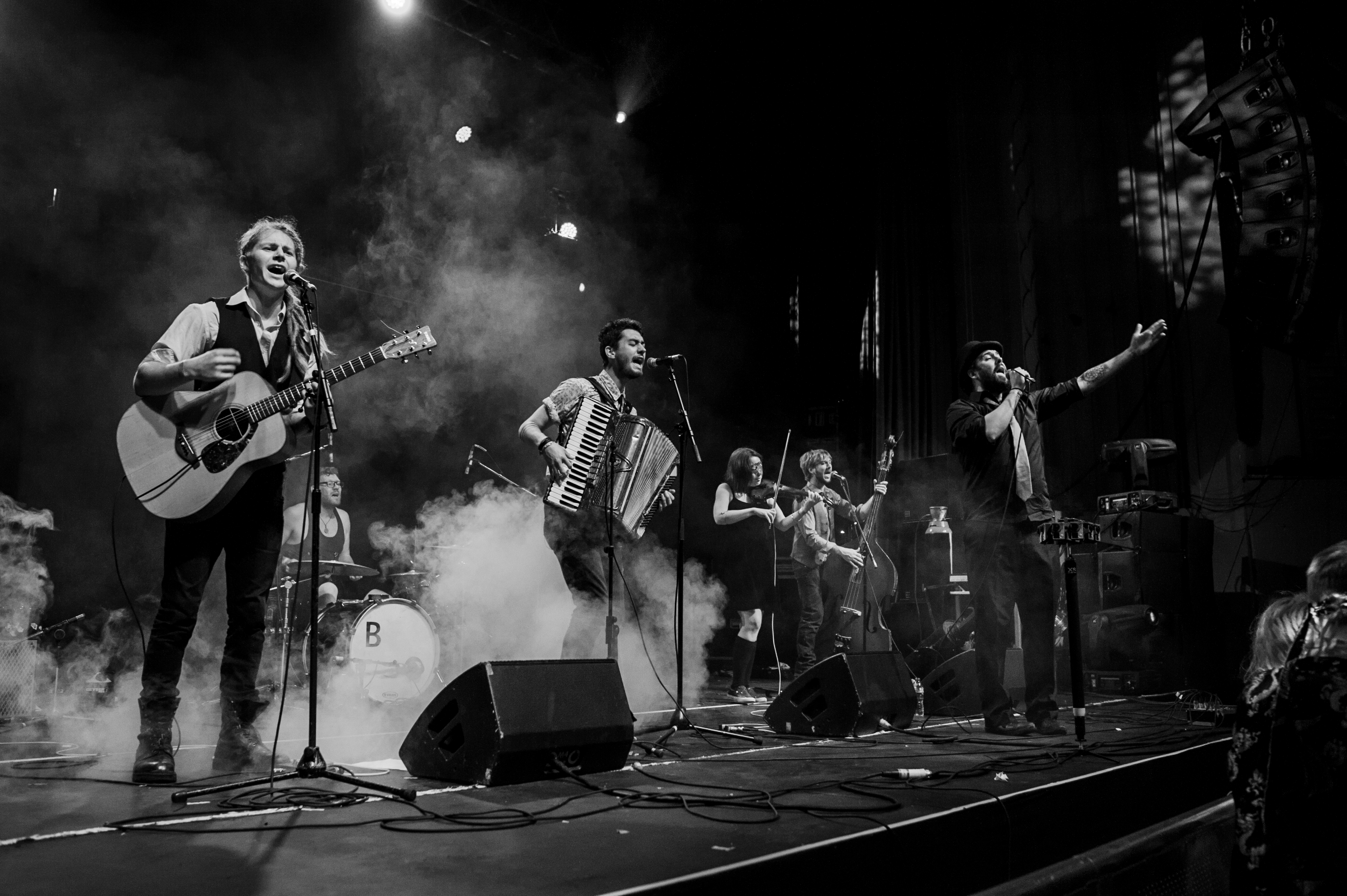 On Halloween 2014, Buffo's Wake released their debut album Carniphobia. Recorded in an array of bedrooms and studios (and everywhere in between), Buffo's Wake decided not to use any synthesised instruments on their songs, instead opting for entirely acoustic instruments, effects and atmospherics. The album was created using singing saws, wine glasses, old rusty pipes, handmade percussion instruments and anything else they could get their grubby little paws on. The result is the haunting sound of an abandoned circus that flows throughout the album, inspiring the title Carniphobia.
Halloween 2019 saw the release of their follow up album 'Dybbuk' – a collection of chaotic Klezmer-punk and Carnivalesque Balkan bangers, that has pushed their song-writing in new directions. A sold out launch party with a 16 piece orchestral band saw the album birthed into the world in the most fitting way possible – a cacophony of sweaty gypsy-punk chaos.
Take a look at the EPK to read more.